2022 Investment Banking Compensation Report
2022 Investment Banking Analyst Compensation Report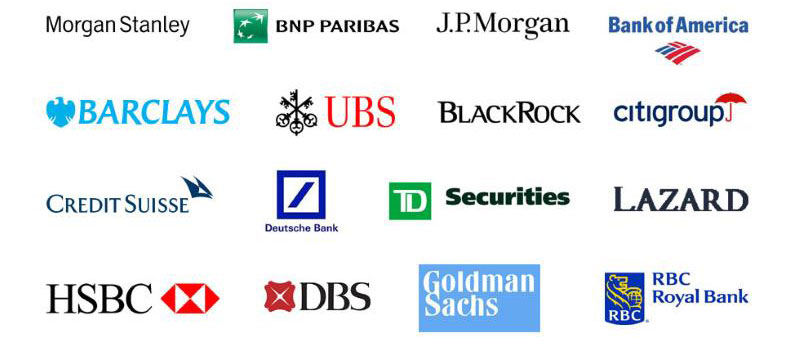 Over the past year, we have seen the most significant change in investment banking compensation numbers that the industry has seen in nearly a decade. We have compiled a list of updated compensation numbers for bankers, so that students currently going through recruiting have an accurate understanding of what their potential payout structures will look like.
We will be focusing on analyst compensation for this article since that's where we have the most complete data. The key takeaways are as follows: 
At this point, almost every firm across Wall Street has announced compensation bumps, particularly at the junior level (analyst/associate). "Street" base salary for first-year analysts is now $100K-$110K, up from $85K-$90K (a number which was unchanged for many years up to this point)
As @BowTiedBull presciently called several years ago, the bifurcation between independent M&A advisory firms ("elite boutiques") and full-service, bulge bracket investment banks is becoming increasingly clear

Despite everything that's changed, investment banking (particularly M&A advisory) remains one of the best career choices for maximizing USTT flow
We will be going through each of the banks that we have collected numbers from (sourced from verified personal knowledge and contacts + 3rd Party Compensation Reports), but first, here is a ballpark range of how first year bankers all-in comp typically is broken down for those new to the industry. 

Base: $100-110k (there are now Elite Boutiques that pay > $110k)
Signing + Relocation Bonus: $10-20k
EOY Bonus: $50-120k (this is dependent on both which bank you work for, and which performance "bucket" you were placed in i.e. Bottom Bucket, Mid Bucket, Top Bucket)

Before diving into the salary and bonus numbers for each bank, here is a bit of background on why investment banking comp has increased in the past year. 

Background: COVID, Analyst Rebellion, and Investment Banking Revenues

Over the last year, the COVID WFH environment was brutal for many junior-level bankers. After a period of confusion and slowdown immediately following the outbreak of COVID in 1H 2020, an explosion of deal flow occurred in 2H 2020 and into 2021. Fresh college graduates in the class of 2020 were the ones to burden much of the increased deal flow. 
The increased workload, combined with the lack of typical in-office "bullpen camaraderie" that made analyst labor bearable in prior years, led to a record level of attrition among analyst ranks. Analysts were quitting just weeks into their contracts, and one of the primary drivers of this was the sentiment that making only ~$150K for 90+ hours/week just wasn't worth it anymore.
Inevitably, analysts began demanding higher compensation. One of the major justifications for higher compensation was the record-setting revenue numbers banks were reporting. Bolstered by red-hot IPO and SPAC markets, as well as a flurry of M&A activity, investment banking revenues have boomed over the last few quarters.
Investment Banking 2022 Compensation Report:

Comp is typically highest at Elite Boutique banks (commonly referred to as EBs on WallStreetOasis and similar Banking communities). Note that "Elite Boutique" is not an official designation that the banks themselves use, so please don't use the term in your interviews. All-in comp for 1st year Analysts at top EB's (Moelis being the highest we've seen for first years) peaked around ~$230k in the past year. Most Top EB 1st year Analysts broke $200k+ all-in during 2021. Top talent recently has been favoring these independent M&A advisory shops over the top Bulge Brackets (Goldman, Morgan Stanley, JPM). 

If you've read The Banker's Bible, you know that on a revenue-per-head basis, full-service bulge bracket banks like J.P. Morgan, Bank of America, etc. can't compete with M&A boutiques like PJT or Evercore. Generating more revenue per person means higher comp, and this year the difference in bonus numbers between M&A "elite" boutiques and the bulge brackets was particularly clear. Top bucket bonus numbers at Morgan Stanley, for example, were only around $80K. In contrast, if you were a top bucket performer at Evercore or Moelis, your bonus was around ~$125K.
To give you an idea of how stark the difference is, Centerview (Top EB, three year Analyst program)'s A1 -> A3 all-in compensation breaks $1,000,000 if you plan to stay on as an Associate and collect their $200,000 A2A (Analyst to Associate) Bonus.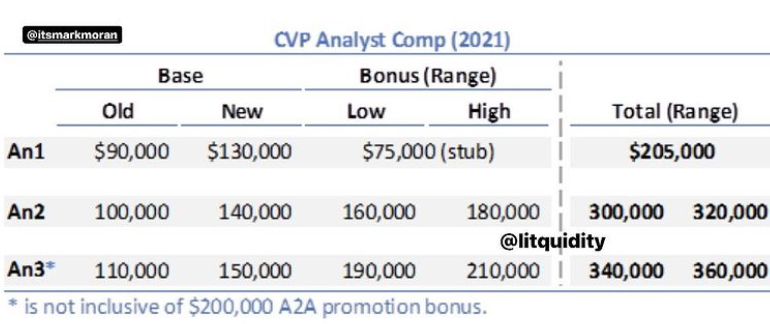 *Source = Litquidity

The 1st year Analyst Base Salary breakdown for EB's is below:

$130k: Centerview (A1 -> A3 at CVP is now top of street at $130k, $140k, $150k)
$120k: Evercore and Qatalyst
$115k: LionTree
$110k: Moelis, Greenhill, PWP, PJT, Guggenheim
$105k: Rothschild
$100k: Lazard

Base EB salaries in the 2nd and 3rd (if applicable) analyst years typically increase by ~$10k each year. For example, Evercore's A1, A2, A3 base = $120k, $130k, $140k.
The 1st year Analyst Base Salary breakdown for BB's is below:
$110k: Goldman Sachs, JPM, Morgan Stanley
$100k: Bank of America, Citi, Credit Suisse, Barclays, Wells Fargo, UBS, DB

The average 1st year BB IB Analyst will receive a bonus ranging from $60k - $80k. Goldman had the strongest year of the BBs with a $75k-$115k bonus range for A1s (bottom bucket = $75k, mid bucket = $95k, top bucket = $115k).

JPM's bonus ranged from $50-95k, MS was $50-70k, BofA paid $75-95k, Citi paid $60-80k. UBS had a down year in bonuses paying a range of $55-62.5k.

The Street Associate Base salaries for BB's (Y1 -> Y3) are $175k, 200k, and 225k.

The 1st year Analyst Base Salary breakdown for MM Banks is below:
$110k: Jefferies, William Blair, Baird
$105k: Houlihan Lokey, Raymond James, HSBC
$100k: RBC, Piper Sandler, Harris Williams, Lincoln International, Piper Jaffray, SocGen, Stifel, Nomura, Mizuho, FT Partners, Cowen, BMO

1st Year Bonuses for Middle Market Banks tend to also range between $60-80k depending on your bank's performance for the preceding year and which bucket you're placed in. The highest MM Bonus we have seen in 2021 was Jefferies with top-bucket bonuses of $100k for A1 and $130k for A2.

Conclusion

If you're looking to break into investment banking, the above compensation differential is one of the major reasons why we suggest gunning for M&A. Furthermore, associate compensation has also been bumped. While beyond the scope of this article, you are probably getting paid significantly more as an associate at an elite boutique than you would if you moved to a private equity firm (unless at a top Megafund). Overall, our conclusion is that investment banking is still one of the best career paths to maximize cash flow out of college. 
We'll also go ahead and caution overexcitement over these numbers. Your cost of living has likely skyrocketed due to inflation, so these compensation bumps were in some sense overdue. Our advice is still to use the increased cash flow to stack computer coins and fund your side business. 

We are happy to answer any questions in the comments or via email (contactbankersbible@gmail.com)

Happy Hunting!
Amen, 
The Banker's Bible Team